November, 2007 Affordable Housing Finance, "HUD Contracting Investigation Heats Up" AHF reports this concerning the October investigation ... the contract at issue in those news reports is a very small part of a larger picture of alleged corruption and favoritism in contracting decisions. Sources within HUD confirmed that HUD Inspector General (IG) Kenneth Donohue has initiated at least two and possibly three new investigations into HUD contracting. AHF November article > > >

October, 2007 - HUD Secretary Alphonso Jackson under investigation, again... The Associated Press and numerous other internet news sites are reporting: The FBI, a federal grand jury in Washington and prosecutors frm the Justice Department's Public Integrity Section are investigating Jackson over his involvement in the awarding of contracts. In April of last year lawmakers called for an investigation by HUD's Inspector General. One powerful senator demanded Jackson's resignation. Jackson issued an apology. Last September HUD inspector General Kenneth Donohue issued a lengthy report. Once again federal investigators are on Jackson's trail.
September, 2007 - Alphonso Jackson's HUD contract for $100,000 oil portraits - Washingtonpost.com reports on oil portraits awarded in a $100,000 contract even in midst of what could be significant budget cuts to the agency. "...the last HUD secretary to have an official portrait painted and hung at the agency was Samuel Pierce, whose eight year tenure in the Reagan administration triggered a behemoth independent counsel investigation into widespread corruption at HUD - focusing on charges that the agency under Pierce's stewardship played political favoritism in awarding contracts." Wow, Jackson's under his second investigation for awarding of contracts, what a coincidence. Washingtonpost articles > > ´At HUD It's Portrait Portrait On the Wall´, | 5 HUD Portraits, 1 Tight Deadline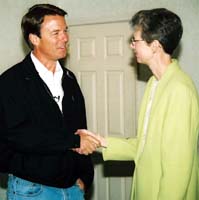 June, 2007 - Council President Carolyn Federoff talks with presidential candidate John Edwards about his proposal to eliminate 1500 HUD positions. ... On June 9, John Edwards held a private meeting with CP Federoff before attending a Labor function in Wakefield, Massachusetts. They talked about his proposal to "radically" overhaul HUD, focusing on his proposal to reduce HUD by 1500 while simultaneously attacking wasteful contracting out. "Reducing wasteful contracting out will bring work back into HUD," said Federoff, "increasing the need for more HUD staff, not less."
Senator Edwards confirmed that it was his intent to reduce contracting out at HUD. He also advised that he was a good friend of AFGE National President John Gage, and that he planned to talk with NP Gage about this matter further. NP Gage sent a letter to Edwards shortly thereafter. (Click here to view.).
CP Federoff was invited to meet with Mr. Edwards by North Shore Central Labor Council President Jeff Crosby. Mr. Crosby was the organizer of the Labor function Mr. Edwards was attending. He and CP Federoff serve together on the Massachusetts AFL-CIO Executive Board, and he offered to arrange the meeting when informed of Mr. Edwards´ proposals to downsize HUD. "Jeff represents industry workers at GE who are fighting their own contract battles to save health insurance benefits for their retirees and incoming workers. It was a true act of Labor solidarity that he would arrange this opportunity for me," said CP Federoff. It was the only private meeting held during the event.
CP Federoff also gave Senator Edwards a letter detailing HUD employee concerns with his broader policy proposals. (Click here to view.)
---
July, 2007 - Affordable Housing Finance "Reinventing HUD" In June (see below link) AHF focused on HUD's reliance to outside contractors, how contracts were awarded and what HUD users get for $1 billion per year in contracts. In this July issue, they look at how to make HUD a viable and helpful agency again, what's right at HUD, and follow up on their June issue. July excerpt: "When Carolyn Federoff joined the Dept of Housing and Urban Development in 1986, she believed in the agency's mission of providing affordable housing and revitalizing ciites and many of her 10,000 colleagues shared her idealism". Go to the AHF website > > >
June, 2007 - Affordable Housing Finance "Is HUD Contracting Out of Control?" In an in-depth investigation, AHF sheds new light on how HUD chooses and manages the firms that received about $5.5 billion in contracts since the Bush administration took office, and what these actions mean to the housing industry. Go to the AHF website > > >
DOL Final Rule Standards of Conduct for Federal Sector Labor Organizations
The Department of Labor June 2, 2006 Final Rule requires labor organizations subject to the Civil Service Reform Act of 1978, the Foreign Service Act of 1980 and the Congressional Accountability Act of 1995 to periodically inform their members of their rights as union members. The Final Rule will help ensure that federal union members are given basic understanding of: 1) rights as union members; 2) responsibilities of union officers.

Civil Service Reform Act of 1978 (CSRA) - The standards of conduct provisions in this Act, among other statutes, guarantee certain rights to members of unions representing Federal employees and impose certain responsibilities on officers of these unions. read about the CSRA >

DOL 06/02/06 Federal Register Final Rule | DOL Fact Sheet | Council 222 Constitution/ByLaws
Foreign Service Act of 1980 | Congressional Accountability Act of 1995